Everimaging Distributor Program
Are you looking for a distributor partner program which could help you quickly increase your potential clients and sales? If yes, join us!
Everimaging's distributor program will provide you with very attractive commissions, award-winning products with high quality as well as full customization according to you demand. So far we have already worked with some well-know partners who had taken advantage of our profitable products to make more money.
As an experienced software distributor, you know your home market and you know the importance of offering your customers leading software titles. We are offering you the chance to distribute Everimaging products in your home market and be a part of our official Everimaging distributor network. You will partner with one of the industry leaders and generate high turnover in a growing market!
What are key benefits?
Very attractive commission
Everimaging offers our distributors very attractive commission structure based on performance and volume.
Award-winning products with high quality
Everimaging has many best-selling and award-winning products which can quickly help increase your sales volume and potential profit:
HDR Darkroom is state-of-the-art software that uses innovative HDR technology to create the most gorgeous HDR photos with the least amount of effort. HDR Darkroom was awarded the Sliver Prize at the Digital Camera Grand-prix in Japan, 2011, and currently it is the best-selling HDR software in Germany.
Photo Effect Studio Pro for all-purpose editing and Beautune for portraits. Both products have been designed, as with HDR Darkroom , to the highest technical and design standards to take advantage of this huge photography market. Beautune has remained in the US Mac App Store Top 10 Grossing Apps list since its release, and Photo Effect Studio Pro has also continued to be a market leader.
Full customization
Partners are encouraged to sell our products by using our "Everimaging" brand, however if you would like to promote the products by using your brand, we can customize the products according to your requests.
No need to purchase a minimum amount of licenses
within a certain period
No delivery fee
No physical delivery of licenses necessary - licenses are delivered electronically by e-mail, so there won't be any extra costs for shipping.
How does it work?
Please send us your company presentation via email (please note only English applications can be considered)
Include: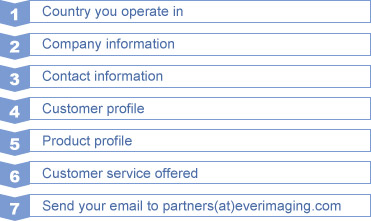 We will contact you as soon as we review your application to discuss further steps.
Everimaging Reseller Program
The Everimaging reseller program is aimed at businesses that want to directly sell any Everimaging product. It is ideally suited to face-to-face businesses (such as retail or consulting) as licenses are pre-purchased and then resold.
As an authorized reseller, you can purchase discounted products that you can resell to your customers in store, onsite or online. We are committed to working with our resellers to help grow your businesses and ours.
| | |
| --- | --- |
| Reseller Benefits | |
| No program fees | |
| Attractive margins | |
| High initial discounts especially for small resellers | |
| Ongoing support and training | |
| 24/5 customer support | |
| Govermment/Churches/Schools/Charities disounts | |
We welcome inquiries from established distributors and value-added resellers. If you are interested in joining our distributor or reseller program, please contact us at

and then you will get our response within 24 hours.